Diet Solution Recipes Roundup
Tossed Salad with Our Basic Dressing. Your Organic Greens Will Taste Wonderful, Trust Me.
If you're a regular reader of this blog, you know how I love to get my claws (and mouth) on healthy Diet Solution recipes. I get a lot of the cool recipes from generous DSP followers. I also thumb through cookbooks, surf the Internet and do a lot of experimenting in the kitchen. When I get a hold of delicious recipes, I'm always excited to share them with you.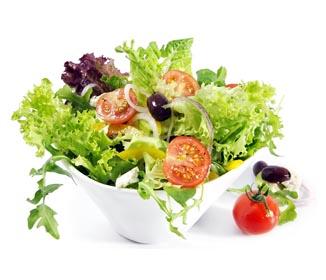 I've sent out recipes in my newsletters, published them in my books, and posted them here on this site. If you're short on time and you don't want to dig through tons of recipes, today's your lucky day. Here's a quick roundup of some favorites.
Healthy French Toast
2 slices of sprouted grain, rice or spelt bread
2 eggs
1 tablespoon of real butter
maple syrup
cinnamon
Mix the eggs in a bowl. Dip the bread in the egg mixture and generously coat both sides. Heat a pan on a low to medium setting and add the butter. After the butter melts, add the coated bread. Cook the bread for 3 to 4 minutes on each side. Top with cinnamon and maple syrup.
Mediterranean Roast Turkey
(Andrea, a DSP member)
1 large chopped onion
2 tablespoons freshly squeezed lemon juice
12 cup pitted and copped kalamata olives
1 12 teaspoon minced garlic (bottled)
12 cup of julienne-cut, oil-packed, sun-dried tomato halves (drained)
12 teaspoon sea salt
3 tablespoons arrowroot powder
1 teaspoon Greek seasoning mix
1 trimmed, boneless turkey breast
12 cup fat-free, low-sodium chicken broth
14 teaspoon freshly ground black pepper
Combine turkey, onion, lemon juice, garlic, tomatoes, sea salt, seasoning mix, olives and pepper in a crock pot. Pour in 14 cup of chicken broth and let the ingredients cook for 7 hours. Combine the arrowroot and the rest of the chicken broth in a small bowl and whisk until it's smooth. Add the mixture to the crock pot. Cover the pot and cook on low for 30 more minutes. Slice the turkey breast after it's cooked.
Tomato and Cucumber Salad
(Annie, a DSP member)
5 diced tomatoes
1 onion, finely chopped
1 chopped green pepper
1 sliced cucumber
handful of chopped basil
handful of chopped parsley
6 chopped garlic cloves (optional)
sea salt
pepper
Mix all the ingredients in a bowl and season with sea salt and pepper.
Cilantro Marinade
(Sally Fallon, Nourishing Traditions)
handful of chopped cilantro leaves
3 minced garlic cloves
14 cup olive oil
14 teaspoon ground black pepper
juice from a lemon
Mix all of the ingredients together in a bowl.
Basic Salad Dressing
1 teaspoon of smooth or grainy Dijon mustard
12 cup olive oil
1 tablespoon flaxseed oil
1 14 tablespoon wine vinegar
Add mustard and vinegar in a bowl and whisk. Slowly stream in the olive oil and continue to whisk until the oil is emulsified. Whisk in the flaxseed oil. Serve immediately.
These Diet Solution recipes are absolutely delish and approved for a healthy meal plan. Try them out and let me know what you think!
Don't wait another day to get a healthy lease on life. Let The Diet Solution Program help you achieve your weight loss goals. Learn a little more about our program and join our community where you'll find many more Diet Solution recipes from me, our staff, and our members.